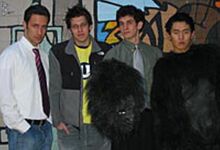 anonyMous was the comedy film troupe founded by Joe Hawley in fall 2002 at the University of Michigan.
They were active throughout his sophomore year, creating video sketches that were eventually compiled into a feature film entitled Sargasm. The film was released in spring 2003, and many of its sketches went on to be featured as early Tally Hall videos on their website.
Ad blocker interference detected!
Wikia is a free-to-use site that makes money from advertising. We have a modified experience for viewers using ad blockers

Wikia is not accessible if you've made further modifications. Remove the custom ad blocker rule(s) and the page will load as expected.