Jukebox the Ghost




Vital Stats

Members
Tommy Siegel

Ben Thornewill Jesse Kristin

Years active
2006-present




Genre
Indie rock




Hometown
Washington, DC




Relationship to Tally Hall
Tourmates



Jukebox the Ghost is an indie rock band with a variety of deep connections to
Tally Hall.
Formed in Washington DC at George Washington University, Jukebox the Ghost were participants in the same late-2000s East Coast indie scene as Tally Hall, sharing the same bill many times for one-off shows before finally touring together in 2010 (alongside Skybox).
Tommy Siegel contributed banjo to Rob Cantor's song Country Good.
Tommy also opened for one of Andrew Horowitz's solo edu shows in 2013 at Pete's Candy Store.
In a video on the Jukebox the Ghost Facebook page, Rob is shown in the background while Jesse records vocals for their song, "Hollywood".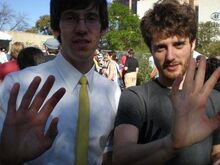 Ad blocker interference detected!
Wikia is a free-to-use site that makes money from advertising. We have a modified experience for viewers using ad blockers

Wikia is not accessible if you've made further modifications. Remove the custom ad blocker rule(s) and the page will load as expected.