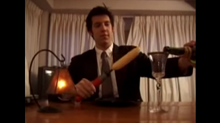 Sargasm was the first and only film released by Joe Hawley's comedy troupe anonyMous in April 2003. A compilation of sketches, the film was shown at the Michigan Theatre in Ann Arbor and was described by Joe as like "'Saturday Night Live,' only funny."
The movie featured recurring segments that would go on to reappear in Tally Hall's Internet Show, such as What You Don't Know and Joerilla. Additionally, many sketches would be uploaded as early Tally Hall videos on their website.
Break It Down
Joerilla - Dirty Laundry
Joerilla - Sidewalk Duel
Joerilla - Triumph
Joerilla - Whoops
What You Don't Know - Squirrels
What You Don't Know - Dancing
What You Don't Know - Carrots
What You Don't Know - Plants
Vroom
Phone Assassin
Ad blocker interference detected!
Wikia is a free-to-use site that makes money from advertising. We have a modified experience for viewers using ad blockers

Wikia is not accessible if you've made further modifications. Remove the custom ad blocker rule(s) and the page will load as expected.