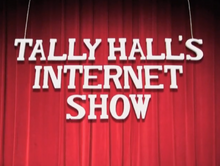 Tally Hall's Internet Show (also known as T.H.I.S.) is a 10-episode comedy sketch series created by the members of Tally Hall. New episodes premiered weekly from late 2008 into early 2009.
The web series was produced by Atlantic Records, in an unprecedented (for the era) 50/50 deal guided by Cyndi Lynott, then Atlantic's director of marketing. The show was filmed during 2007 and 2008 in Ann Arbor, and was natively hosted on Tally Hall's website.
It is currently hosted on the Tally Hall Vimeo page. Music videos for various songs on Marvin's Marvelous Mechanical Museum are featured in some episodes.
Episodes
Edit
Bonus episodes: