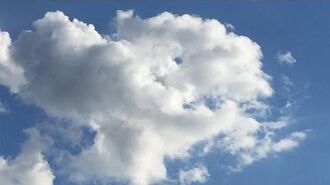 Variations on a Cloud is a song by ミラクルミュージカル. It was first offered as a free download for preordering Hawaii: Part II in summer 2012.
It contains reprisals of musical themes from Murders, Isle Unto Thyself, and Ruler of Everything. It was written and performed by Rob Cantor and Joe Hawley.
An early demo of the song can be heard in a blooper segment during the ending montage of T.H.I.S. Episode 10, "Good Night."
Both of us see a cloud
Or whatever we may believe
Being it may be proud
Or whatever we want to see

OK jump

Cirrus in (cumulus) light (dark) you lie (vow)
Give us varying (colorful) shades of grey
Floating inside (outside) the sky
Show us everything (nothing) everyday (in any way)

OK jump to end it all
Let this one be to break the fall

It's a little bit of magic to end the world (But I thought you knew me truly)
Something different than we started with in the world (Does it even matter to me)

I was in the hearing
Bumming a humble clearing from Caligula
In his Shangri-la la la

Miracle worker I saw you begin it
Walking the water (So soft on the rain)
See what you see in the surface (a limit)
Ladies and gentlemen please why don't we

Keep it coming back

(Join if you wish)

We've been to this scene (these days it's hard to find friends)
Aboriginal meme (But opportunities bend)
Had a smotherful mother full of meddle and steam (and we spend the chance sleeping on the top of the fence)

Can't believe what we've seen
Won't  be burned to the ground
Though we make ourselves castles
Every tide we're around

Do you like how I walk?
Do you like how I talk?
Do you like how my face has learned to tick like a clock?

I have a wonderful life
I know a powerful Bob
He eulogizes me for being geocentric

Keep it coming back and coming back and coming back
Why don't we keep it coming back and coming back and coming back
And coming
Ad blocker interference detected!
Wikia is a free-to-use site that makes money from advertising. We have a modified experience for viewers using ad blockers

Wikia is not accessible if you've made further modifications. Remove the custom ad blocker rule(s) and the page will load as expected.